About Vascular Flora and Non-vascular Checklist of Alaska
Recent News
1/7/2018: Checklist of vascular and non-vascular plants and fruticose lichens added (version 1.0).
The Flora of Alaska project provides a comprehensive synonymized checklist of vascular and non-vascular plants and fruticose lichens of Alaska. Both native and non-native vascular plants are included within the vascular flora. New and updated genera keys and individual taxon accounts will be published for vascular plants as they become available.
The checklist has been developed from lists of plants occurring in Alaska from Checklist of the Panarctic Flora, University of Alaska Museum Herbarium (ALA), University of Alaska Anchorage Herbarium (UAAH), and USDA Plants Database. The checklist includes synonyms and names that have been misapplied for species in Alaska. Accepted nomenclature was inherited from the following persons or sources in order of priority:
Individual taxonomic specialists
Dave Murray, Ph.D. (Curator Emeritus of ALA)
Note on relationship with USDA Plants Database
The checklist has been synonymized with and linked to USDA Plants Database because many federal agencies are required to report using USDA Plants Database nomenclature. USDA Plants codes are provided within the checklist where possible. Within the context of Alaska, Plants Database is less than ideal because it is not updated to reflect recent taxonomic investigations, and it does not prioritize the floristics of the Beringian or Arctic regions. Relative to the accepted nomenclature presented here, Plants Database uses a synonym for 691 taxa, misapplies names for 110 taxa, does not recognize 211 names and instead applies another name sensu lato, and does not recognize 68 names and has no equivalent. Despite these drawbacks, links to Plants Database have been included where possible to increase the usefulness of the checklist and flora to federal agencies and to provide compatibility with studies that followed Plants nomenclature.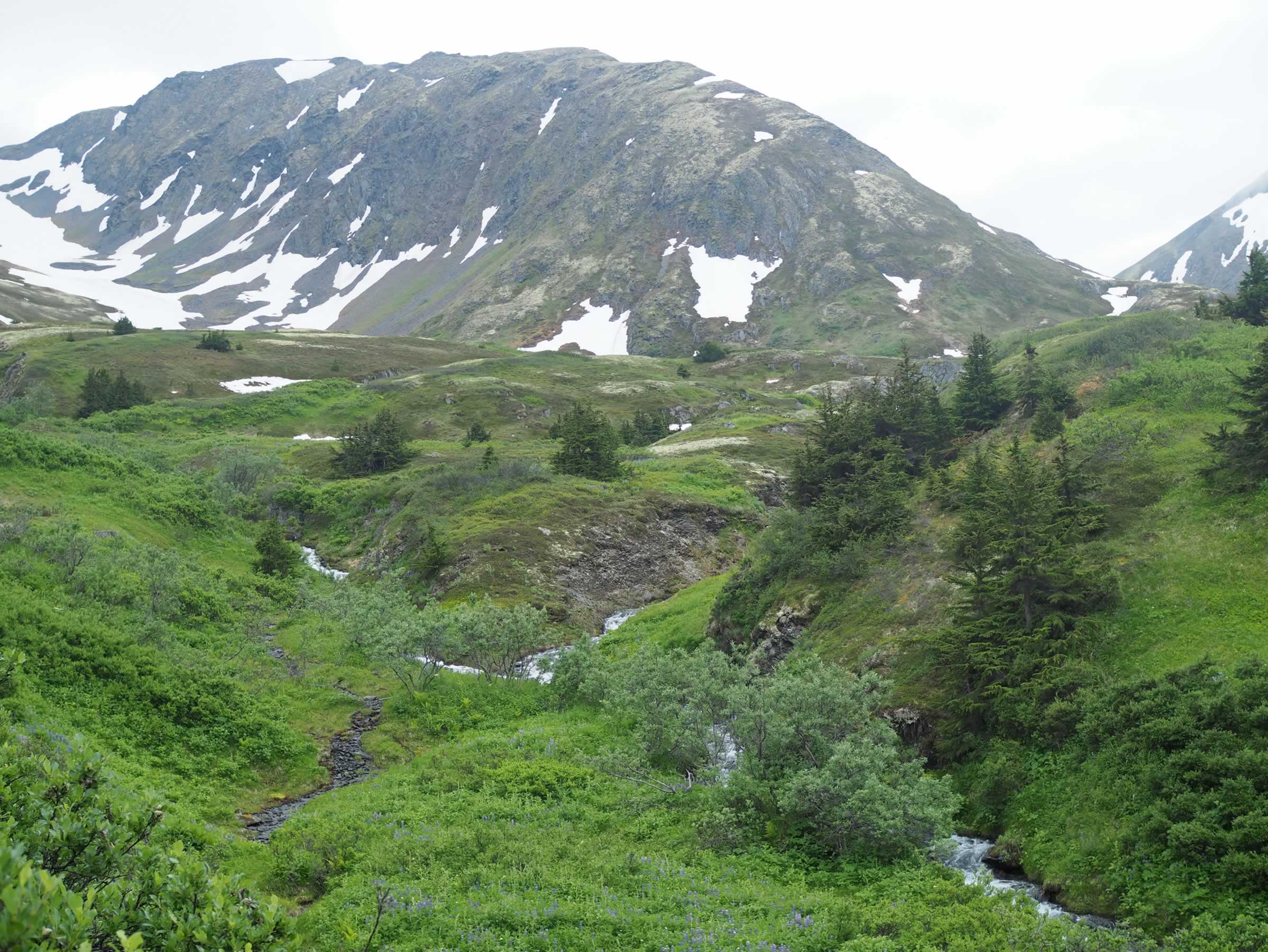 Director (ACCS)
Matthew L. Carlson, Ph.D.
mlcarlson (at) alaska.edu
907-786-6390
Botanist (ACCS)
Justin R. Fulkerson, M.S.
jrfulkerson (at) alaska.edu
907-786-6387
Research Professional (UAA)
Brian Heitz
bjheitz@alaska.edu
Assistant Botanist (ACCS)
Timm Nawrocki
twnawrocki (at) alaska.edu
907-786-6359
For general contact information please visit the contact page for Alaska Center for Conservation Science by clicking the button below:
Citation and Works Cited
Please cite the Vascular Flora and Non-vascular Checklist of Alaska as follows:
Carlson, M.L., J.R. Fulkerson, B.J. Heitz, and T. Nawrocki (eds.). 2018. Vascular Flora and Non-vascular Checklist of Alaska. University of Alaska Anchorage. Anchorage, Alaska. Available online: https://floraofalaska.org
The following works were used in preparation of the Vascular Flora and Non-vascular Checklist of Alaska:
ACCS. 2017. Non-native Plant Species List. Alaska Center for Conservation Science, University of Alaska Anchorage. Anchorage, Alaska. Available online: http://accs.uaa.alaska.edu/invasive-species/non-native-plant-species-list/
ACCS. 2017. Rare Plant Species List. Alaska Center for Conservation Science, University of Alaska Anchorage. Anchorage, Alaska. Available online: http://aknhp.uaa.alaska.edu/apps/rareplants
Argus, G.W. 2004. A Guide to the identification of Salix (willows) in Alaska, the Yukon Territory, and adjacent regions. (Updated May 12, 2005). Available online: http://accs.uaa.alaska.edu/files/botany/publications/2004/GuideSalixAlaskaYukon.pdf
Elven, R., D.F. Murray, V.Y. Razzhivin, and B.A. Yurtsev (eds.). 2017. Annotated Checklist of the Panarctic Flora (PAF) Vascular Plants. Natural History Museum, University of Oslo. Oslo, Norway. Available online: http://nhm2.uio.no/paf/
Flora of North America Editorial Committee, eds. 1993+. 16+ vols. Flora of North America North of Mexico. 20+ vols. New York and Oxford. Vol. 1, 1993; vol. 2, 1993; vol. 3, 1997; vol. 4, 2003; vol. 5, 2005; vol. 6, 2015; vol. 7, 2010; vol. 8, 2009; vol. 9, 2014; vol. 12, 2016; vol. 19, 2006; vol. 20, 2006; vol. 21, 2006; vol. 22, 2000; vol. 23, 2002; vol. 24, 2007; vol. 25, 2003; vol. 26, 2002; vol. 27, 2007; vol 28, 2014. Available online: http://efloras.org/
Farrar, D. 2011. Systematics of moonworts Botrychium subgenus Botrychium. Department of Ecology, Evolution and Organismal Biology, Iowa State University. Ames, Iowa. Available online: http://www.public.iastate.edu/~herbarium/botrychium.html
Farrar, D., and S. Popovich. 2012. Ophioglossaceae. In: Weber, W., and R. Wittmann. 2012. Colorado Flora: Western Slope 4th Edition. University Press of Colorado. Boulder, Colorado. 400 pp.
Hultén, E.O. 1941-1950. Flora of Alaska and Yukon, volumes 1-10. Lunds Universitets Årsskrift N.F., Avd. 2, 37:1-46:1.
Hultén, E.O. 1968. Flora of Alaska and Neighboring Territories: a Manual of the Vascular Plants. Stanford University Press, Stanford, California.
ITIS. 2017. Integrated Taxonomic Information System (ITIS). Available online: https://www.itis.gov
Kartesz, J. Director of Biota of North America Project. 9319 Bracken Lane, Chapel Hill, North Carolina 27516. Pers. comm.
Welsh, S.L. 1974. Anderson's Flora of Alaska and Adjacent Parts of Canada. Brigham Young University Press. Provo, Utah. xvi, 724p. Illustrations, portrait, map.
Mulligan, G.A. 2001. Three New Taxa and a Summary of the Mustard family, Brassicaceae (Cruciferae), in Canada and Alaska. Canadian Field-Naturalist. 115: 341-342.
Murray, D.F. ????. Checklist of Vascular Plants of Alaska (?)
Nawrocki, T., J.R. Fulkerson, and M.L. Carlson. 2013. Alaska Rare Plant Field Guide. Alaska Natural Heritage Program, University of Alaska Anchorage. 352 pp. Available online: http://accs.uaa.alaska.edu/botany/alaska-rare-plant-field-guide/
Reznicek, A. 2017. Key to the Cyperaceae of Alaska. Unpublished key.
Sheviak, C. 2010. Cypripedium parviflorum in the Northwest, with the Description of a New Variety. The Native Orchid Conference Journal. 7(2). 1-15 p.
Sheviak, C. Curator of Botany, Herbarium, New York State Museum. 222 Madison Avenue, Albany, New York 12230. Pers. comm.
Skinner Q, S. Wright, R. Henszey, J. Henszey, S. Wyman. 2012. A Field Guide to Alaska Grasses. Education Resources Publishing, Cumming, Georgia.
USDA. 2017. Plants Database. Natural Resource Conservation Service, U.S. Department of Agriculture. Available online: https://plants.usda.gov/